There are many things you can do There are many people who can support you

Support Services/
The following pages list the resources which will help you find the people who support people with dementia and which will be useful for the future. If you want to know more about the information and/or services listed here, please look them up on the Internet.
Resources 1 Meeting people who face the same issues as you
Organizations involved in dementia related issues:
• Alzheimer's Association Japan: Activities cover a wide-range of areas related to dementia.
• Japan Dementia Working Group: Activities are organized primarily by people with dementia.
• Male Caregivers and Supporters' Nationwide Network: Meet male caregivers from all over Japan.
• Lewy Body Disease Type Dementia Support Network: Medical doctors and nurses specializing in this type of dementia provide advice.
• Association of Younger Onset Dementia Patients' Families/Supporters Liaison Council: Members provide counseling about younger onset dementia.
Resources 2 Information on care/medicine/welfare issues in your community
• Regional Comprehensive Support Center: Organization to provide information about nursing care, medical and welfare issues and advice. Make your inquiry to the aged people's support contact in your region.
• Division of the Support for the Elderly, Division of Nursing-care Insurance, Division of Disability Aid (in your city/ward office): The Division of Nursing-care Insurance is included in the contact handling nursing-care issues. The Division of Disability Aid is included in the contact handling younger onset dementia issues.
• Councils of Social Welfare: Provide information about regional welfare including locations of cafés for people with dementia.
Resources 3 Telephone consultation for people with dementia and their families (All are in Japanese language only)
• Alzheimer's Association Japan: 0120-294-456 (10:00-15:00 except Saturday, Sunday and holidays)
• Prefectural Dementia Call Center (Ask for information at your local government office)
• Younger Onset Dementia Call Center: 0800-100-2707 (10:00-15:00 from Monday to Saturday/Not available on holidays)
Resources 4 Systems to support overall wellbeing and delaying progress of dementia
• Nursing-care Insurance Service: Public support service for delaying progress of dementia and when nursing care is required.
• Health and Welfare Certificate of Persons with Mental Disorders: To receive tax exemption/reduction, discount of utility bills, etc.
• Support for job seekers: Division for assisting employment of disabled people at Hello Work, Employment Support Offices for the Disabled, Center of Employment Support and Living Support for Disabled.
• Pension Office: For those who are younger than 65 years old and eligible for disability pensions.
• Subsidy for medical expenses: Psychiatric rehabilitation, subsidy for medical fee (partial) for malignant diseases, etc.
Resources 5 Issues you should talk about with your family
After diagnosis, and when you feel ready, talk about the following matters with your family members:
• Driving: People with dementia are not allowed to drive motor vehicles. Talk about means of transportation other than driving.
• Property management and proxy contract: There are systems for home help and guardianship of adults.
• Decision-making on Medical Issues: It is important to talk about medical choices at end of life, and so on with your family. Discuss "advance care planning".
• Decision-making Support: Support which takes your wishes and thoughts into account.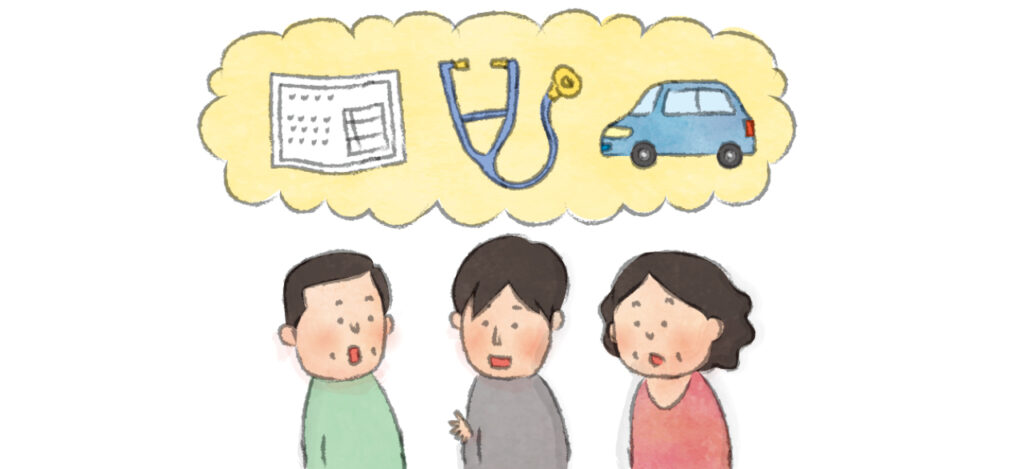 Resources 6 Going out with others and living a healthy life
To keep your condition stable, it is useful to go out and spend time with other people. Are you worried about failing to do things in front of others or that people will know about your dementia? Here are some places you can feel at ease going to with your family:
"Tsudoi" (Gatherings)
People with dementia and their family members talk about how they spend their everyday life and care. Professionals including medical doctors provide information too. The participants are people in the same situation and are easy to talk to. You can feel you are not alone and get cheered up.
Cafés for People with Dementia
This is not only for people with dementia and their families but anybody can go. People can ask questions about dementia as well as enjoy conversation with others and music events. Visitors feel safe as it is operated by organizations and people who understand dementia well.
Voice from a Participant
I was worried about what kind of place it was, what kind of people were there, what would I do if others asked me questions, whether I could spend time there without getting nervous, etc., etc. But I found the courage to go to the Orange Café (café for people with dementia) near my house. A person from the social welfare council in my town told me about this café.
Actually, there was nothing to worry or be nervous about. I spent a very enjoyable time there. I spoke about my dementia and people there gave me a lot of useful information. More than anything, I was comfortable listening to music and participating in their activities, and feeling calm and contented.
Radio gymnastic exercises and resistance training in your community
You can get this information from the district support center, healthcare center, and social welfare council in your area.
Each area organizes unique and different programs including radio gymnastic exercises, resistance training and brain (mental) workout, Tai Chi, hula dance, nutrition and oral care classes in play parks, spaces in supermarket buildings, temples, and other places.
Voice of a Participant
On my family doctor's recommendation to do exercises, I joined radio gymnastic exercises held at a nearby supermarket. This established a good routine for me. It is difficult to exercise just by myself, but it is enjoyable to do it with others. I have made friends and now, we have lunch and do some walking and going on trips together.