Active AAJ in both towns and villages < Okayama, Kagoshima >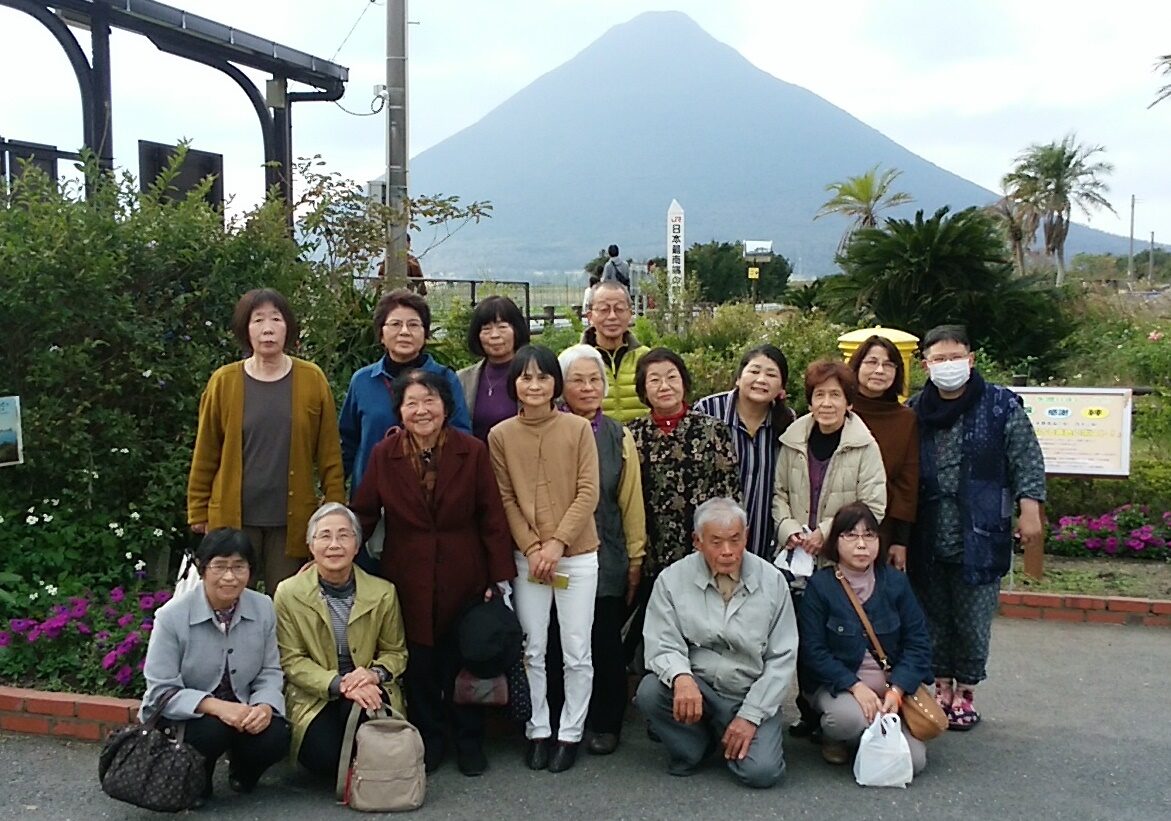 Introducing activities from the nationwide Alzheimer's Association Japan (AAJ) branch reports!!
Editor/Taeko Uchida
Okayama Prefectural Branch
I'm glad I could go there, hooray!
Okayama Prefectural Branch held an "internal exchange and workshop" event for two days from October 9 to 10. It was a drive to Natuto in Awaji in a motorcoach, with 31 participants.
We went to the dead center of the whirlpool on the whirlpool sightseeing boat, and were impressed by grandeur of the power of nature. We had a buffet meal at the restaurant at the Renaissance Naruto Resort, passed the Onaruto Bridge and arrived at our destination, the Minami Awaji Royal Hotel.
In the workshop, our lecturers were Mrs. Emiko Takegami and Mr. Yasunari Takegami, a couple who had participated in the Japan-Korea Joint Dementia Academic Forum, 2018. They told us about their experiences and impressions, and we had a very good time at the social gathering that night.
The next day, we visited Izanagi Shrine, listened to the priest at Hachijoji Temple, and visited Daikokuten, one of the Awaji Seven Deities of Good Luck. We had lunch during our trip, and all of us returned to Okayama without any problems.
Participants left comments such as "I'm glad I could go there, hooray!", "I was struck by the grandeur of nature. It made a good memory", and "It was nice to get away from daily life as a pair and meet other family caregivers, people with dementia , and people from the secretariat." This internal get-together and workshop event was sponsored by Sompo Japan Nipponkoa Welfare Foundation.
Kagoshima Prefectural Branch
I wish more people would participate in this event
On November 24, Kagoshima Prefectural Branch had a One-day Refreshing Trip (a project unique to the branch). We took a bus trip to Yamagawa, Ibusuki City, with 17 participants from various areas.
We visited Michi-no-Eki (rest area) Iokaido in Yamagawa, Ibusuki City, Nishi-Oyama Station, which is the southernmost JR station in Japan, the Tokkoen comprehensive elderly-care facility, and finally Lake Ikeda. Tokkoen is located at the foot of Mt. Kaimon, also called Satsuma-fuji (Mt. Fuji in the Satsuma region), and is a facility rich in nature. After we heard about the establishment of the facility and terms for admission, we had a Q&A session. The participants asked many questions, and we were able to have a rewarding tour of the facility.
For this bus tour, we used the Ibusuki Skyline expressway, so we could enjoy a view over Kagoshima City and Ibusuki City. We also dropped in to the Nishi-Oyama Station, which is the southernmost JR station in Japan, and saw Lake Ikeda, the largest lake in Kyushu, from the windows of the bus. We ate fresh fish at Michi-no-Eki, had lively conversations and songs in the bus both ways, and had an enjoyable trip. with laughter all the time.
The facilitator commented, "I hope more members and their families will participate in this event next year."
*This article was originally published in AAJ's Newsletter #463.