Implementation of building community connections at Farm Aid Higashigotanda and Higashigotanda club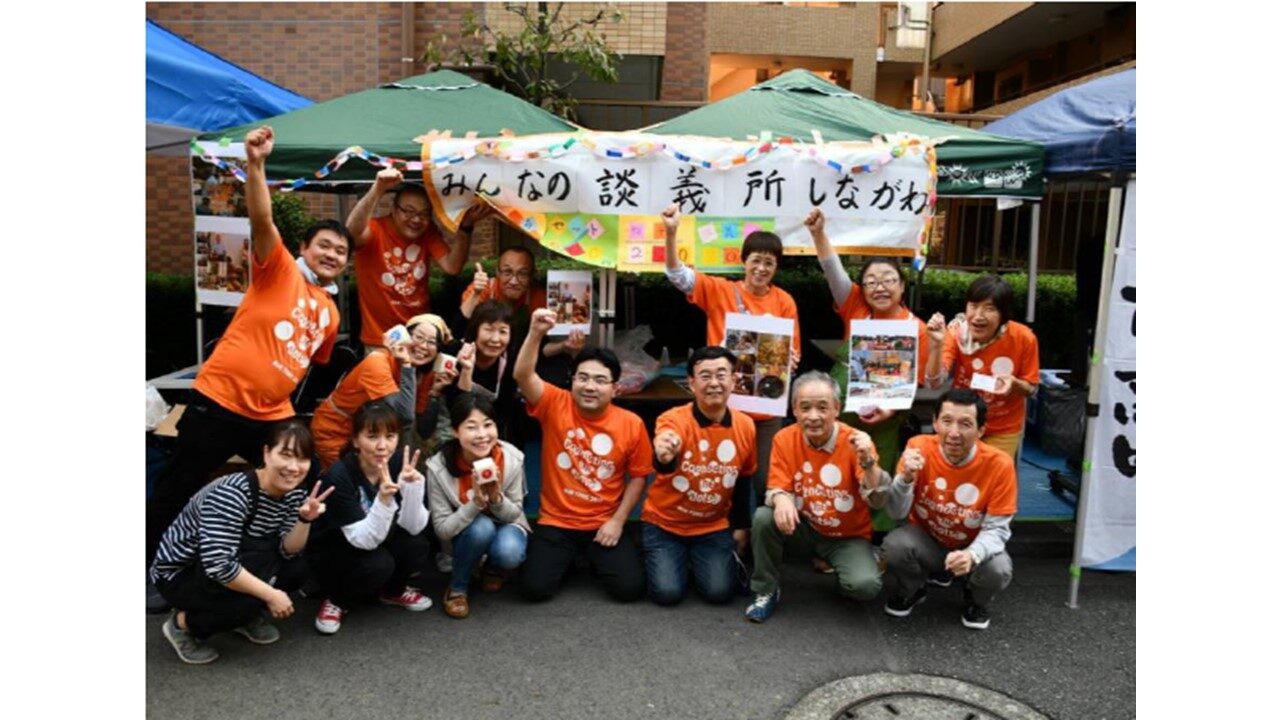 The origin of Farm Aid Higashigotanda
Located in the Higashigotanda and Osaki district, this town council is characterized by large hospitals, private medical institutions, nursing colleges, elementary schools, pharmacies (in multiple locations), and facilities for the elderly. The amount of residents has increased rapidly in recent years, with more of them living in condominiums and apartments than those who have been there for a long time. In the town council, the aging of the staff is remarkable, and the performance of the town council has declined, so there are almost no opportunities for original events with the town council. As a regional challenge, the connection of local residents and the cooperation of all organisms were deficient and provided significant challenges. The professionals involved in dementia are often seen more than in other areas, but there were no places for horizontal connection; they were as isolated entities. In order to link these entities, it was essential for many occupations to have pleasant and easy communication and to face issues in the same direction. Based on this, Farm Aid Higashigotanda was established. In Shinagawa, people with dementia, families, professionals (doctors, nurses, long-term caregivers), administrative officers, and members of Congress, regardless of their place of residence, can participate in the discussions and meetings of Dangisho (a place to talk) Shinagawa. As well, there is Kissa Ibasho (tearooms) held by doctors and people with dementia.
At facilities for the elderly of the Higashigotanda club, the residents of group homes perform calligraphy classes for children in the community and run candy stores for them.
Farm Aid Higashigotanda has become a place that connects various activities performed by people with dementia.
Activities of people with dementia in Shinagawa
1. Everybody's Dangisho Shinagawa
Started by people with dementia, it is held once a month as a place where everyone, including families, administrative officers, professionals (doctors, nurses, long-term caregivers), pharmacists, regional inclusion, home care establishments, publishers, reporters, local residents, etcetera, can freely exchange opinions.
2. Kissa Ibasho
A café opened by doctors and people with dementia with the intention to create a place where anyone can freely stop by, where they can gain a feeling of relief just by being there, where people with dementia can work, and where they can keep living in the same city they are used to. A café intended to be enjoyed by both people living with dementia and local residents.
3. Group Home Higashigotanda's Calligraphy Class
After the outbreak of dementia, person A., a Group Home resident, had difficulties in continuing living at his home, so, decided to move into the Group Home. He had depressive symptoms, often was frustrated for not fitting in the new environment's lifestyle, and frequently left the facility and went back home… Talking to the person A., he happened to be a calligraphy instructor in Shinagawa for many years. Looking to his excitement when talking about it, we decided to reopen his calligraphy lessons in a section of the group home, oriented for the community's children. The person A regained his role and felt better. Now, he does the calligraphy lessons twice a month.
Activity achievements (dementia conference)
The dementia conference is held with the cooperation of Shinagawa Ward. Every year, people with dementia speak on the stage and share their experiences after getting dementia. Last year, Akio Kakishita (from Shinagawa), Mie Iwata (from Shinagawa), and Tomofumi Tanno (from Sendai City) all spoke of their experiences, within the theme of living "Plentiful" in the "Now," each one of them told their stories and anxieties from the time they were diagnosed until now, and how they are delaying the progress of dementia by creating connections with many people and playing active roles.
The activity and experience area
In the activity and experience area, local pharmacies work together to give children a chance to experience the packaging of medicines. Children wear a white coat and experience the separation and package of chocolates and ramune candy as if they were medicines with a packaging machine, actually used in pharmacies. Also, there are other experiences, like drawing eco-bags with beeswax, experience wheelchairs, and many others.
Flea Markets
At the flea markets, you can find specialty products made by the ideas and dedication of all of Japan, with lots of products made at welfare workplaces and local shops. Everybody's Dangisho Shinagawa is held as a place where people with dementia, their families, administrative staff, professionals, local residents, etcetera can freely exchange opinions. The members come up with many ideas and sell them every year. This year we sold freshly made rice cakes (Isobe [food wrapped in nori], kinako [roasted soybean flour], red bean paste, and sweet bean soup with mochi). To raise the awareness of dementia, a message card and an orange colored mandarin rice cake, the theme color of dementia, was attached.
At the Kissa Ibasho booth, specialty coffee and fruit tea and books for people with Lewy Body Dementia were sold in a bazaar event.
At the booth where medical and long-term care professionals of the community gather, walnut grilled miso, developed in collaboration with Rikuzentakada's Megumi Koboo, and grilled seafood from Sanriku were sold.
Conclusion
Three years have passed since the event Farm Aid Higashigotanda was launched. Many groups and people in various fields involved with dementia began to form horizontal connections through this event. Many groups and initiatives existing as individual organisms are changing activities as a whole, rather than as separate entities. The goal is to not have to hold the Farm Aid Higashigotanda event, but we want to create a city where everyone can live normally regardless of dementia or disability.