Dementia supporters who have reached the second stage: From public awareness to "Orange"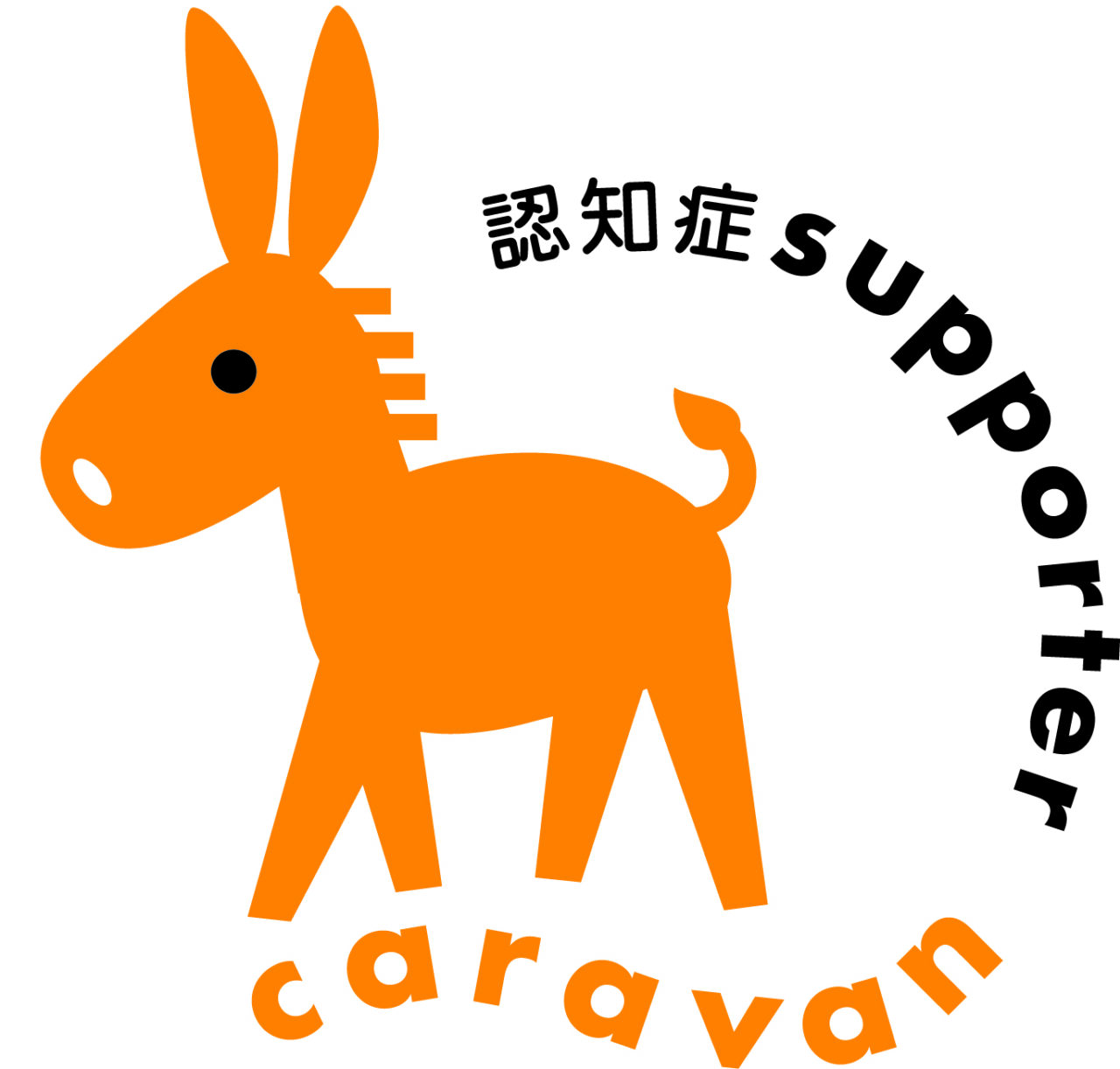 What is a dementia supporter?
The "Ninchisho (Dementia) Supporter Caravan" started in 2005 by the Ministry of Health, Labour and Welfare. At that time, the mainstream idea about dementia was cruel on long-term care and there was no understanding from the mass media. There was also a lack of perspective in comprehendending the data from a medical point of view. Lack of knowledge promotes prejudice and hinders early detection and consultation. "Ninchisho Supporter Caravan" is a development project systematically constructed based on these reflections. "Dementia supporters" are "supporters of people with dementia and their families who have acquired the correct knowledge about dementia."
After achieving the initial goal of training 1 million dementia supporters in 5 years at the end of May 2009, four years later, the training is accelerating while always overtaking the Ministry of Health, Labour and Welfare targets. Although courses and lectures have decreased significantly over the past year due to the impact of the pandemic, the number has exceeded 13 million people as of the end of December 2020.
The structure of the Ninchisho Supporter Caravan ―Assuming multilayered support.
1. The core implementations are local government bodies and companies/workplace groups
The "Ninchisho Supporter Caravan" is implemented under two processes.
One is a route where local governments (cities, municipalities, and prefectures) take the lead in training supporters for the general population and residents living near local companies and workplace groups, as well as for school students. The other one is a route in which companies and workplace groups organize and train supporters nationwide. Currently, all 47 prefectures, 1729 local governments (out of 1741 municipalities), and about 4500 companies and workplace groups are training dementia supporters (Fig. 1).
2. Diffusion of knowledge and integrated development
Prior to training supporters, it is important to train the instructors of the "Caravan-Mate."
In the mates training, instructors who have the basic knowledge of dementia and experience dealing with dementia will teach in detail how to set up a curriculum for each subject, the content, and the time allocation. Mates' occupations embrace a wide variety of professions, from long-term care/medical professionals to leaders of the Civil Affairs Children's Committee, and each municipality forms a multidisciplinary team. We sometimes get consultations such as "Due to dementia, my family…" and "My neighbor seems to be strange recently. Could it be dementia?" from people who took the course. Utilizing a coordinative system, we introduce counseling institutions and support medical institution examinations to promote early detection and early response (Fig. 2).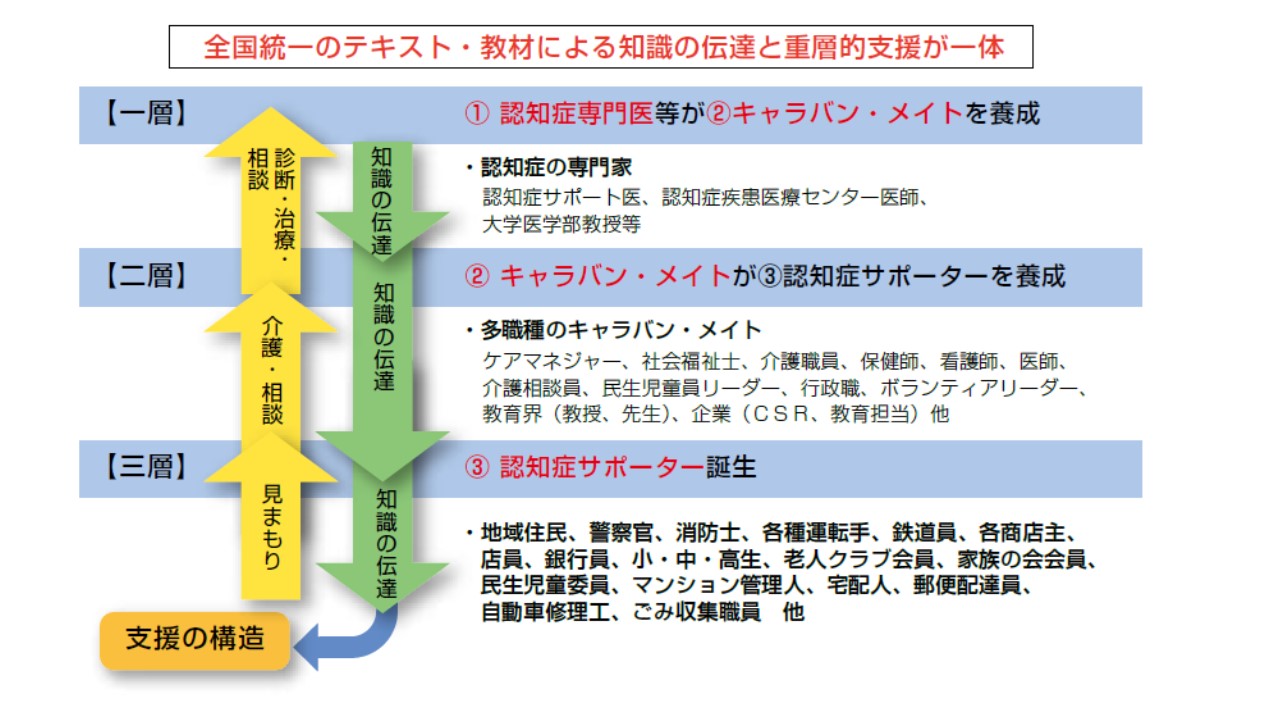 3. Providing a curriculum to people involved nationwide.
The "dementia supporter training course" consists of about 90 minutes (45 minutes or more in the case of conducting the training in elementary and middle school classes). It allows you to learn how to treat people with dementia appropriately while getting knowledge from common textbooks throughout the country, from how dementia occurs to the importance of early diagnosis and understanding the family feelings. In addition to the standard version, there are textbooks for elementary and middle school students as well as supplementary teaching materials that explain how to deal with each occupation, such as financial institutions and supermarkets, a curriculum that combines basics and implementation created for each occupation and each person's necessities. Everyone and anywhere in the country can correctly understand dementia with contents that guarantees a certain level of quality and leading to a common understanding of the symptoms.
Active supporters
Dementia supporters are not people who do anything special. Rather than create confusion, the lack of obligations works in reverse, inducing the creativity of each individual by using the knowledge gained to develop the tasks that each person can do.
The research (1131 collected surveys of the National Caravan-Mate Coordinating Committee's "survey and research project to promote activities of dementia supporters in the community") held in 2018, conducting training for supporters of all Japan's local governments, shows that there were many activities that supporters have voluntarily started, as "hosting or participating in an orange café" (307 cases), "watching" (220), and "listening closely" (136). Considering that volunteer activities are not the purpose of supporters, that is not a small number.
Team Orange starts
In 2019, "Team Orange" was created based on the activities of dementia supporters cultivated for 15 years to make them function effectively. Dementia supporters form a "neighborhood team" that includes people with dementia and their families to support them. More than 150 Team Oranges are already active in Japan (Fig. 3).
The criteria for Team Orange are the following three fundamentals.
A team formed with supporters who have completed the step-up course or expect to complete it in the future.
People with dementia also participate as members of the team (public participation of people with dementia)
The continuous support from an early stage of people with dementia and their families.
Looking at the participants of the step-up courses, about 60% are in their 60s or older, and 40% are in their 70s or older, with 70% being women. The heart of the responsibilities lies in the energetic seniors, who can expect the supporters' own social participation and long-term care preventive effect. The "mutual" fellowship and extension of the neighborhood removes barriers between the supporter and the supported person.
Team Orange is expected to set up a base within walking distance of the elderly, opening at least once a week, though preferably about three times a week, where supporters will change shifts to be on duty. If necessary, they will also provide on-site support, such as visiting the homes of people with dementia and talking to them, plus providing support for going out to the beauty salon or the barber shop, etcetera.
Now that a more "correct understanding" has taken root through ongoing training of supporters, it has become possible for people with dementia and local residents to go beyond the "supporter and supported person" relationship and create a place for themselves. It will drive the realization of a community-based society in the future.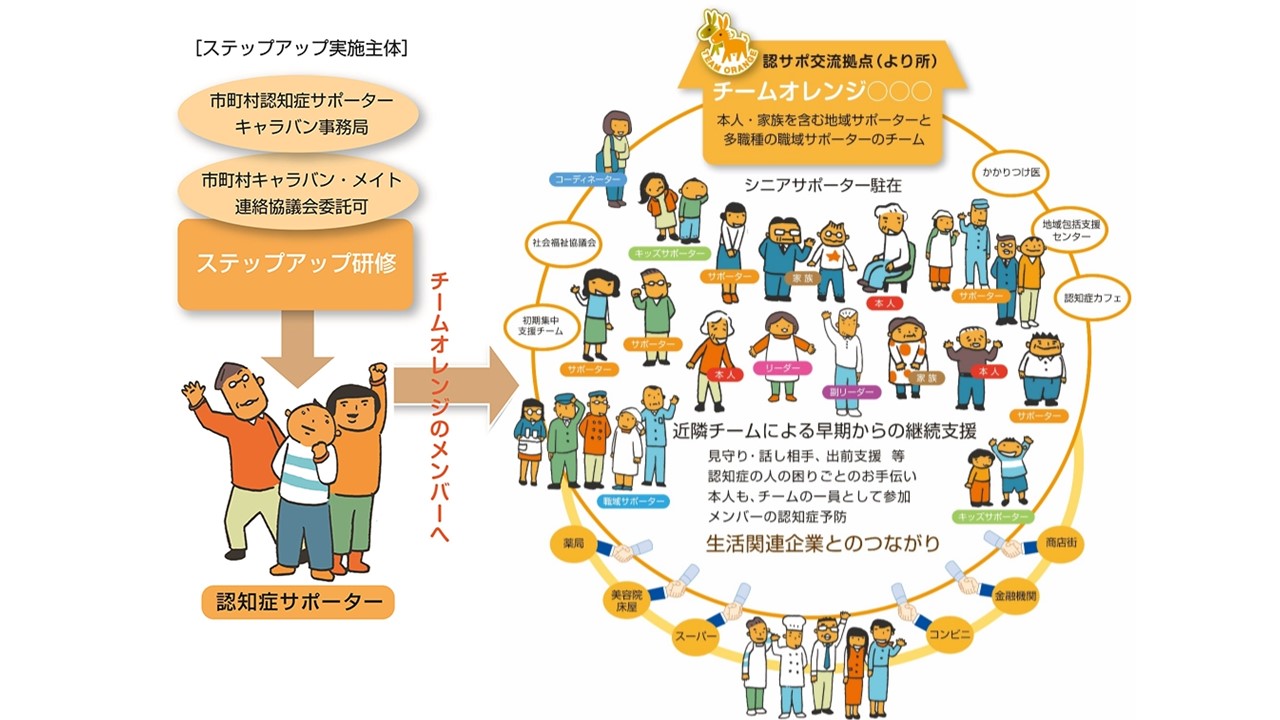 profile
National Caravan-Mate Coordinating Committee
This is the promotion group of the "Ninchisho Supporter Caravan." We support local governments, companies, workplaces, etcetera, that implement caravan projects, including project planning and development of teaching material. The executive office is located in the NPO of local governments to promote Regional Inclusion Policies.
Public Contact
Telephone: 03-3266-0551
Website: caravanmate.com