I want you to believe in my party – my feelings, my struggles, my life, my efforts.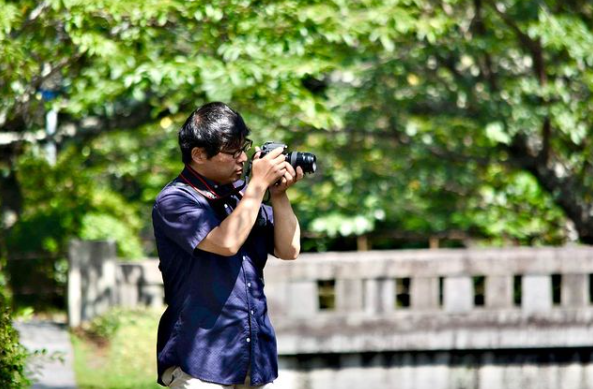 I was diagnosed with younger-onset Alzheimer's in August 2019. I would like to talk about my feelings at that time, the conflicts that followed, my current life, what I am working on, and my thoughts.
My previous life
First of all, regarding my own life, I have lived with my wife since before the appearance of symptoms. My daughter and son live near me, and I have grandchildren too, so they often come to visit me. I have spent calm and lively days. Now that has not changed. When I was young, I used to work as a photographer, but until my current job, I worked in a fish store. After working in a major chain fish store, about one year after the outbreak of my dementia, my colleague and I founded a fish store, with him becoming the president. I worked from 5 am to 10 pm every day in purchasing and preparation, and sometimes I had a day off once a week, yet they were fulfilling days. I was always thinking of how to let people know the deliciousness of fish and the way to cook them. I wanted young mothers and other people to eat fish, so I tried putting fish books in the sales stands and creating signboards that would interest others. From a long time ago in Japan, it is said that the spirit of a true artisan resides in his works, so they stick to one thing with determination, and so did I.
Realization of having dementia
However, when I was working, it was evident that it took me a long time to count the number of shrimp when serving and I would forget some orders. I thought I might be tired from too much work, but I was worried, and I went to see the doctor.
It was at the end of July 2019 when I decided to go to see the doctor. There I took the "Hasegawa Scale," a method used for the diagnosis of dementia. The results of the test were low, and the doctor was surprised. I remember feeling uneasy and out of control. I went to a big hospital by recommendation from the doctor. After that, the results of many tests revealed that I had younger-onset Alzheimer's. That was in August 2019. When I heard the doctor saying the name of the diagnosis in the examination room, I thought, "How is it possible that I…" Yet, I did not know anything about dementia, so I searched on the internet, "Alzheimer's disease." But I couldn't understand what was written, it said something about being bedridden for two years, I felt hopeless at that time. In the middle of my consternation, I quit my work at the end of August. I am often asked why did I quit my job right after my diagnosis. The truth is that I didn't know anything about dementia, and my only impression about it was the "two years bedridden" information I found, so I thought I needed to take care of everything before that happened. Now, after talking with many people with dementia, I don't have that perception anymore, but at that time, I really knew nothing. I thought I didn't want to cause problems in my workplace as well. The work of a fishmonger requires you to be fast. If you make a small mistake, the preparation goes wrong, and everyone's job gets delayed. I didn't want to slow down the work. It felt the career I was building up was collapsing after all that time. I even had a high position. I had pride in this job. All I could think about was my frustration of losing the ability to perform a good job and not being able to guide and teach other workers under my supervision. I didn't want to be seen like that. I was still in my 40s. That was just the beginning of creating the company with my colleague. I still had many things to do. I felt it was unfair.
After the diagnosis, my biggest concern was financial. How was I going to pay the mortgage? So far, I was living from my earnings, and my wife had to take care of our grandchildren, so she was working only part-time. Losing my profits and the state of "being two years bedridden" kept me worried about what I should do with the house and my wife. I was wondering if my family would get the insurance money if I died. I've been doing my best until now, but whatever… I didn't want to give a big burden to my wife, and I still can do some things; I wanted to do them myself, I felt I had to do it. I worked without consulting my wife. At that moment, I thought that I had to work hard for that as well. It was mentally hard to find myself in the middle of the adversity produced by the unemployment and the measures received after my diagnosis. The reality was that it was tough to get that information by myself.
Encountering new activities
After the diagnosis, I was recommended to attend a place of activities while I was involved in the initial intensive support team and many support organizations. It was the Saiin Day Service Center. After having many talks, I was told, "Don't you want to try working in caregiving?" First, I thought long-term care work was impossible for me! But as I tried it, I felt I could do it. In the workplace, everyone understands dementia and gives me support, so I can follow up with my colleagues and do the job without problems, even if it is difficult for me to remember people's names and count numbers. Nevertheless, sometimes I feel inferior, or I get stuck in small details due to my dementia. By talking honestly to my partners, I can work while compromising, while also organizing my state of mind.
Honestly, I feel hesitation and fear when I do a new job because there are many things I have to remember. But when I think about my initial thoughts, "Should I be able to work again? What is going to happen in the future? I have to earn money, but I don't know what to do." I am grateful that I encountered the job I'm doing now. I feel I found my place. Also, getting a new workplace was a big part of resetting my state of mind and restarting my new life. If I'm doing nothing, I just think about the symptoms, so I'm always trying to meet people and participate in numerous initiatives. This broadens my thinking and leads to many challenges. Being in such an extraordinary situation, I feel fun things have increased, and I feel more of a mental balance.
My current activity
Around one year ago, I entered the "Japan Dementia Working Group." When I saw the activities Mr. Tanno and Mr. Fujita were engaged in, I thought I couldn't stay with my arms crossed. At the same time I expressed my opinions to the Ministry of Land, Infrastructure, Transport and Tourism, participated in strategies by companies that think about dementia-friendly communities, acted as an advisor, created opportunities for people with dementia to meet each other, and listened to their stories, I am discussing with my colleagues how to create a system where everyone receives advice. By doing these activities as a person with dementia, in the future, when people with this disease increase, I would like to connect with mechanisms in various industries that allow people with dementia considering going back to work and going out into society by their own will. And I'd like to introduce people with dementia to these kinds of systems and services.
The reason I do these activities is, of course, because I think about other people with dementia, but I do it for myself as well. That is, "to maintain me," extend my time. Yet, the thought of "being bedridden for two years" is still following me. If I don't do it now, I don't know what will happen in half a year or one year. I have to do what I can now. By doing these activities, I keep positive thinking and a connection with society.
In my daily life, there is an aspect where worry and unease increase. For example, among the payments when shopping and transportation, I can live without major problems by using the practical tools and services existing and thinking of ways to use time to my advantage. For that reason, I would like companies to consider coming up with systems to help people with dementia. For instance, it is not good at to count coins, but anybody can use the slow lane as well as the self-checkout cashier. Especially, people with younger-onset dementia don't want to be watched when they cannot do something. Cashless payments can be made without trouble. Sometimes I search if the store has a cashless system before going. Also, I use a lot of mobile applications for that. Sometimes I get off at the wrong bus stop, and I don't know how to go to my home or workplace. I use iPhone apps to get to my destination. That's because I am good at using apps. I would like to have a specialized app that is easy to understand and that integrates what people with dementia need. I am also conveying my opinions for the development of this.
Lastly
Finally, I would like to tell everyone who read this article to believe in people with dementia. Like me, thinking about how to live day by day, we want to do things ourselves, have a role in society and be useful for other people. Also, there are many things we can do. I hear a lot that we live in "a dementia-friendly city," but is it really true? Whenever I hear that government organizations ask for information vertically, I feel there are many cases where they only want to turn around the problem to someone else. I am waiting for the creation of systems and services in which people with dementia act by their own will and put them into practice in society. However, more than anything else, I desire to disseminate dementia understanding among a different range of people regardless of age. I would like to continue my activities for that purpose.
As part of those activities, I am using social media networks. I upload pictures and comments taken from the perspective of people with dementia with the hashtag "#Kiokutsunagu (connecting memories)." I make use of my abilities as a photographer, which I used to be before. I plan to collect all these photos and create a photobook to send a message to people. I hope it reaches a variety of the public. I will be glad if you become an Instagram follower of my account and get to know a little about my thinking.
Profile
Atsushi Shimosaka, 47 years old, a person with Younger-onset Alzheimer's disease