The Japan Dementia Working Group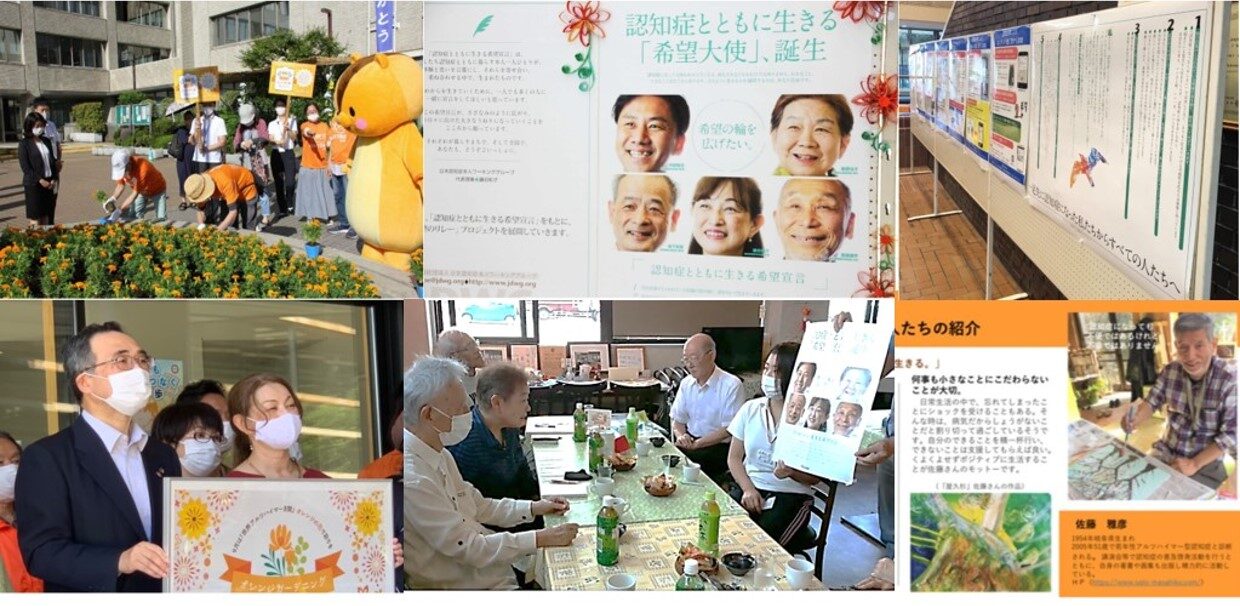 The Japan Dementia Working Group (JDWG) aims to create a society where people with dementia can continue living with hope and dignity, and even have the chance to live better after they get dementia. It is an organization for people living with dementia to meet, connect, find friends, and encourages them to be proactive in their activities.
Almost all members are people with dementia who have lived as members of society for many years, such as office workers, self-employed people, government workers, teachers, medical workers, construction workers, homemakers, etcetera.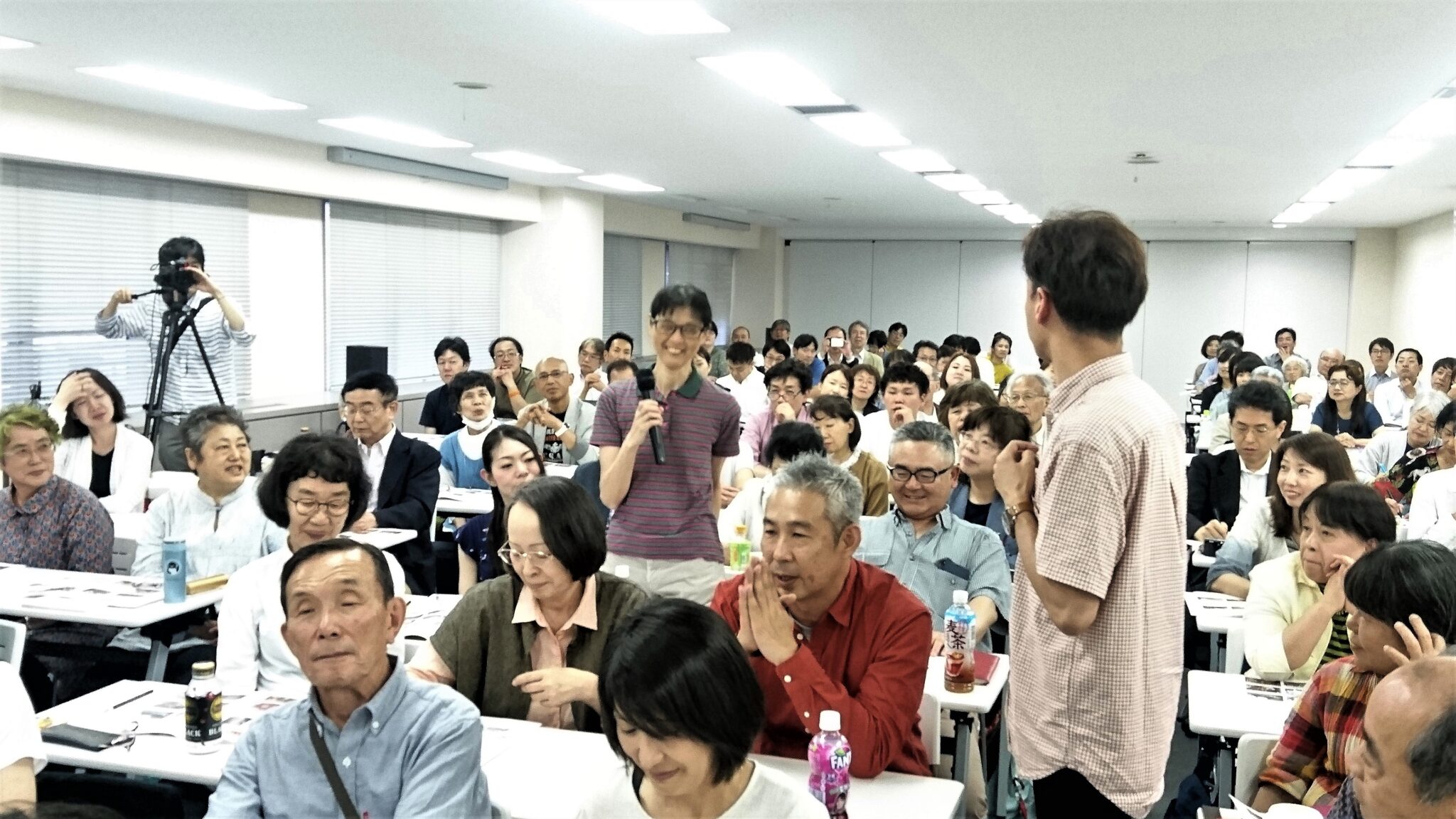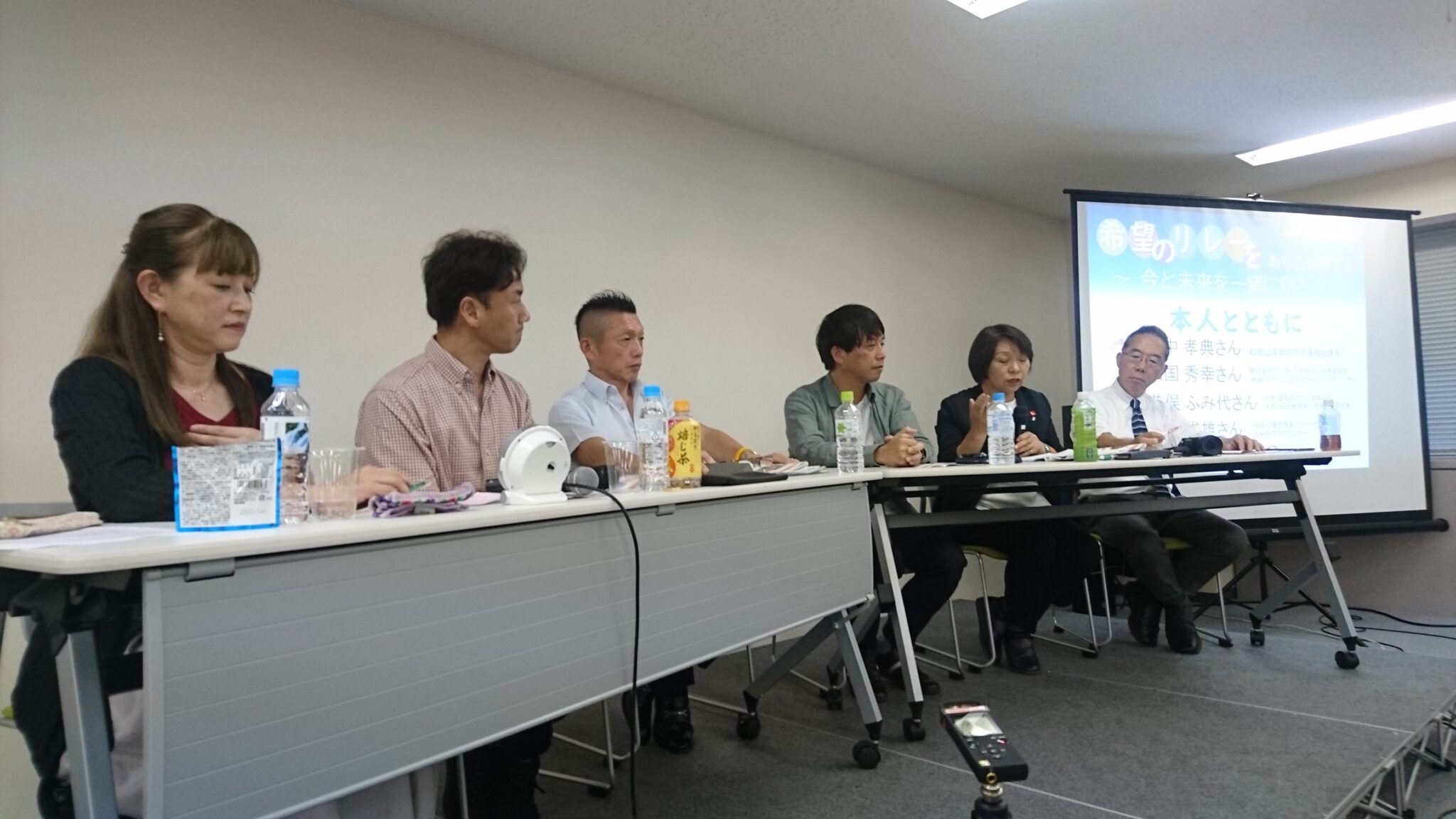 Declaration of hope to live with dementia
In November 2018, The JDWG announced the "Declaration of Hope to Live with Dementia." This is a five-message compilation created by people with dementia who live in several places in Japan, who share their experiences and thoughts about what is important for living with dementia.
We want many people to vow together in order to live well now and in the future. On the JDWG website jdwg.org, you can download the "Declaration of Hope to Live with Dementia" leaflet (A4 size, 4 pages), so feel free to use it.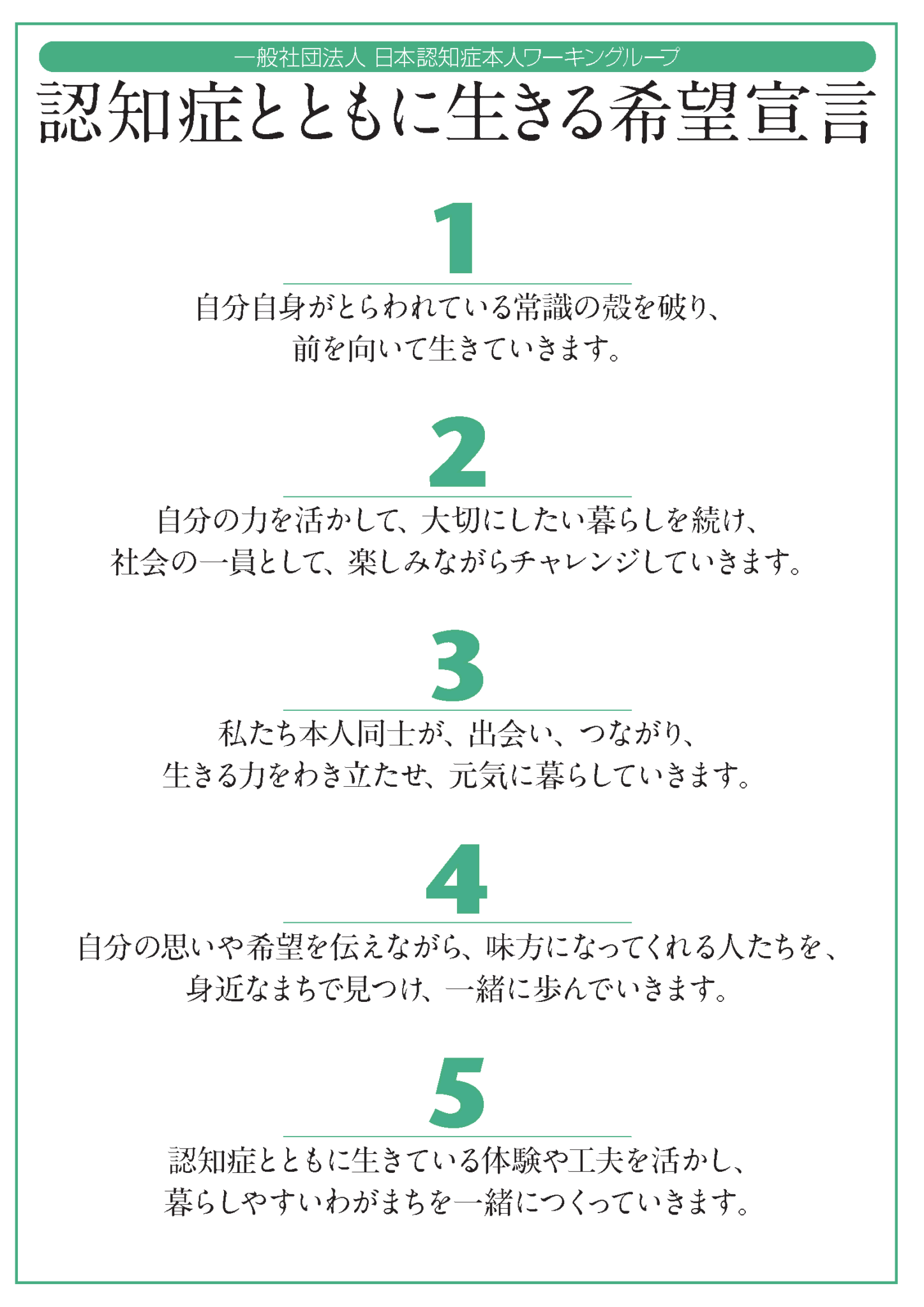 Declaration 1
Break the shell of common sense that you are trapped in and go ahead
The premise, "If I get dementia it's over," is not true. You have limitless possibilities to live better.
Keep an eye on the changes happening, face dementia, think of yourself, and have a good time, a good day, and live a good life.
Declaration 2
I will continue living my precious life using my abilities and strengths, and as a member of society, I will take on challenges while having fun
Instead of focusing on what I cannot do, I focus on what I am capable of and what I want to do.
I choose what is important to me, and I live my own way.
Learn new things, and try new challenges
Go where I want to go and live a rich life in nature and the city
We try to work and earn money, and try to do something useful for the community and the next generation
Declaration 3
We, as fellows with dementia, meet, connect and inspire ourselves to have a fulfilling life
I may be depressed from time to time, but meeting my friends brings back my courage and confidence.
I continue figuring out ways of living by speaking from the heart with friends and sharing wisdom.
Declaration 4
While communicating your thoughts and aspirations, you will find people who will be on your side, walking on the same path.
I have lived in my own way, and from now until my departure, I am the protagonist of my own life.
I will continue communicating the things I only understand, what is difficult and necessary to overcome, and how I want to keep living.
I find people near to me (acquaintances, people in the community, people specializing in medical care, long-term care, welfare, etcetera) who genuinely listen to what I want to convey, think together, and walk side by side toward the future.
By being positive and energetic with my friends and supporters, I reduce the worries and burdens of my family and live better while protecting each other's lifestyles.
Declaration 5
We take advantage of the experience and adaptation of living with dementia, we work together to create a comfortable place to live in.
By living with people with dementia, I will convey things I notice and the adjustments that are made every day so that it can be helpful for other people and society.
We, as people with dementia, make sure that the place we live is suitable, and principles as human beings are being followed, we work together with suggestions and activities to improve our neighborhood.
No matter where I live, I will continue living with peace of mind and aspirations while making sure my neighbor is changing for the better year by year
Action to spread "Declaration of Hope to Live with Dementia," a relay of hope
The JDWG promotes the "Relay of hope," which is one of the interactive activities of people with dementia. Each member of the JDWG makes people aware of the "Declaration of Living with Dementia," all those in the neighborhood with dementia, their families, and the community. People interested in the declaration will spread it as a relay. Through this "Relay of hope" activity, we deliver the declaration to people with dementia all over Japan and we are increasing the number of people living with hope. We provide it to people in various fields and positions, spreading the circle of approval. Also, we think about changing on a big scale the point of view of society toward people with dementia and people concerned about it.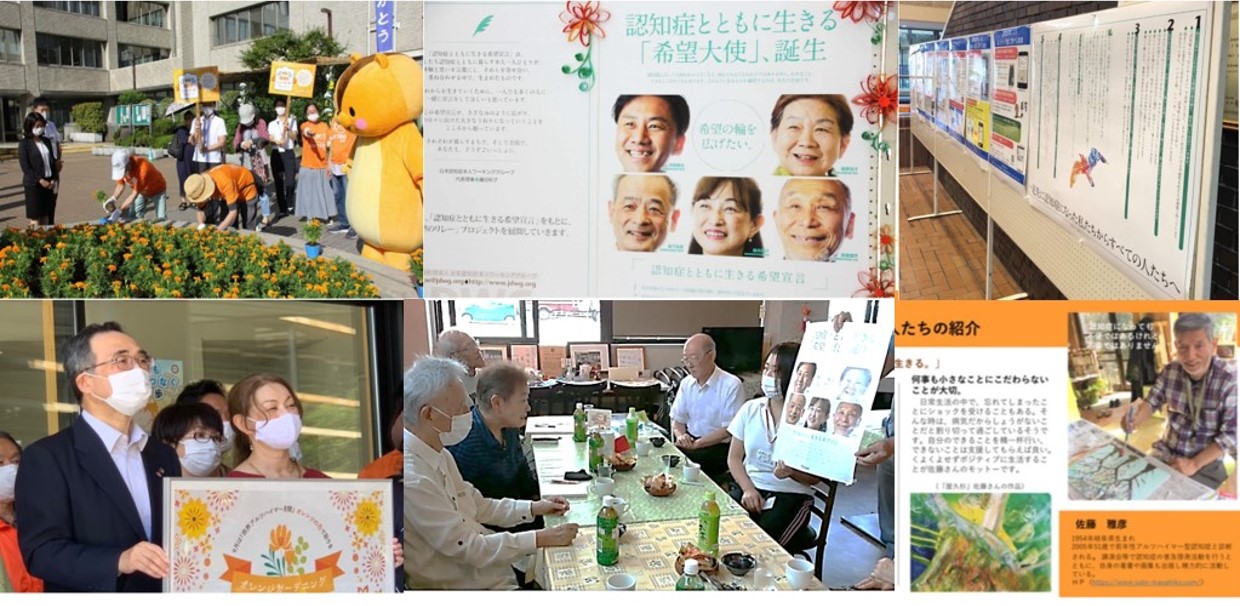 Group profile
People living with dementia can continue living with hope and dignity. By taking part and working in many social areas as members of society, people with dementia aim to create a better society.
In 2014, people with dementia gathered together to form a group to work independently, and then in September 2017, the "Japan Dementia Working Group" was established.
Public Contact