Introduction of "DAYS BLG !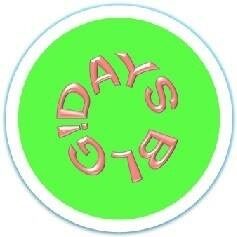 1. What is 100 BLG! Cooperative Business?
It is quite common to have dementia in an extra-high aged society, in other words, anyone can have dementia. DAYS BLG! (Hereinafter referred to as BLG) is a place where thoughts of people with dementia can be connected to a cooperative business and their community, a place taking shape.
BLG! is a small office with a capacity of 10 people per day. The titles are made from the first letter of each word or similar acronyms.
DAYS (every day, all days)
B (Barriers, Obstacles)
L (Life)
G (Gathering)
! (Exclamation, Transmission)
We started on August 1st, 2012, and we do not draw a line between "users," the supported side, and "staff," the supporting side. Everyone who gathers here is called a "member."
2. The actual activity, "working"
The activities of BLG are diverse, but what should be noted is that the fundamental activity is "working."
There are many types of "work," and they can be selected and done on that day, which means that it is one of Japan's few efforts that encourages self-selection and determination.
I show an example of one day's schedule.
9:30 Arrive at BLG
Vital signs measurement & morning tea
9:40 Morning's meeting
・Morning activities
・Lunch time (eating inside, outside, prepare the meal, etc.)
10:30 Beginning of the morning activities
11:30 End of the activities
11:50 Moving to the place for lunch
13:10 Afternoon meeting
・Afternoon activities
・Snacks for tea time (go shopping, or make them)
13:30 Beginning of afternoon activities
15:30 End of activities
15:40 Tea time
15:50 Look-back on the day
16:30 Closing with a single clap (Translator's note: Japanese tradition to celebrate the conclusion or completion of something with a hand-clapping, originally 3-3-3-1 rhythm hand-clapping)
The place for the selection of activities is decided in the morning and afternoon meetings with all participants. Still, everything can be determined by asking the participants.
Although "Work" is the heart of the activities, there are three main elements.
Paid work
Volunteering
Housework, childcare, administrative assistance at the affiliation place (for example, a day service center, etcetera). The sensation of contribution for the society or "I can do a lot" leads to the restoration of self-confidence
Especially for number 1, many companies are cooperating. Honda, Canon, Fujitsu, Kao, Kodomo no Kuni, etcetera can be mentioned. The remunerations are given to the members when the job is completed. In other words, members earn money while using long-term care services. In addition, when the number of job requests is large, the quota is cleared by sharing the work with the Local Welfare Service for people with disabilities, Support for Continuous Employment type B office.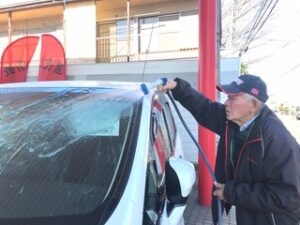 Honda car wash activity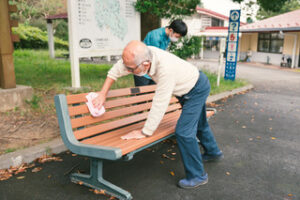 Kodomo no kuni2's benches wiping activity
3. Lunch activities
Various activities are divided into several groups through self-selection and decision making, but the activities are not limited to "working." It is natural that the menu details are set up at other day service centers, and there's no need to do anything. Still, at BLG, the lunch must also be chosen by oneself.
Eating out.
Karaoke lunch (after purchasing a bento, eat it while singing at a Karaoke room.
Buy a bento and eat it in BLG
Cooking and eat it in BLG
This is also divided into several groups, but eating what each chooses leads to satisfaction.
Our daily life is made up of our choices and determination. That is why we respect and encourage self-selection and decision-making, even in the institutional service of long-term care insurance. BLG is not an extraordinary thing but an extension of everyday life.
4. What you can see through the activity of "Work."
As described above, we have promoted "Working" activities through self-selection and decision-making in collaboration with companies and connections with the local community. Moreover, there is something that can be seen from that. It is the existence of comrades.
Being comrades beyond age, gender, dementia, disabilities, or symptoms. Share what you can do through the activities, complement each other difficult or impossible tasks, aim for completion together, and get a sense of accomplishment.
Furthermore, when the awareness of camaraderie is fostered, weaknesses begin to be disclosed. The exposed person is empathic, so even if he fails, he will not be blamed. This is one kind of peer support. We call this condition a place where it can become "fundamental." It also a place where everyone can be healed. Members want to participate because they have friends in this place. By repeating this process, camaraderie's awareness becomes stronger to continue a normal, ordinary daily life.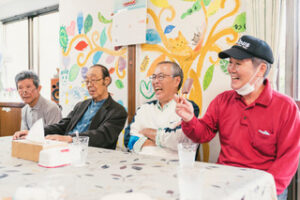 Takayuki Maeda
Mental health social worker and long-term care support specialist
Graduated from University of Canterbury
Graduated from Alpha Medical Welfare College
Geriatric psychiatry Social worker
Home care management center
Third sector of E-type Day Service
President of DAYS BLG!
Specified Non-Profit Organization Machida City Tsunagari no Kai, Machida City Tsunagari no Kai, Chairman of 100BLG Co., President and CEO
Director of Young Dementia Support Center, a specified non-profit organization
Specified Non-Profit Corporation Dementia Friendship Club Advisory Board 1
Director of Japan Dementia Working Group
Contact email address:
takayuki.m@daysblg.biz
Websites:
https://町田daysblg.app/ www.facebook.com/DAYSBLG
https://www.instagram.com/blg.machida/ https://100blg.org/