Developing a "Dementia Support Program" across the SOMPO group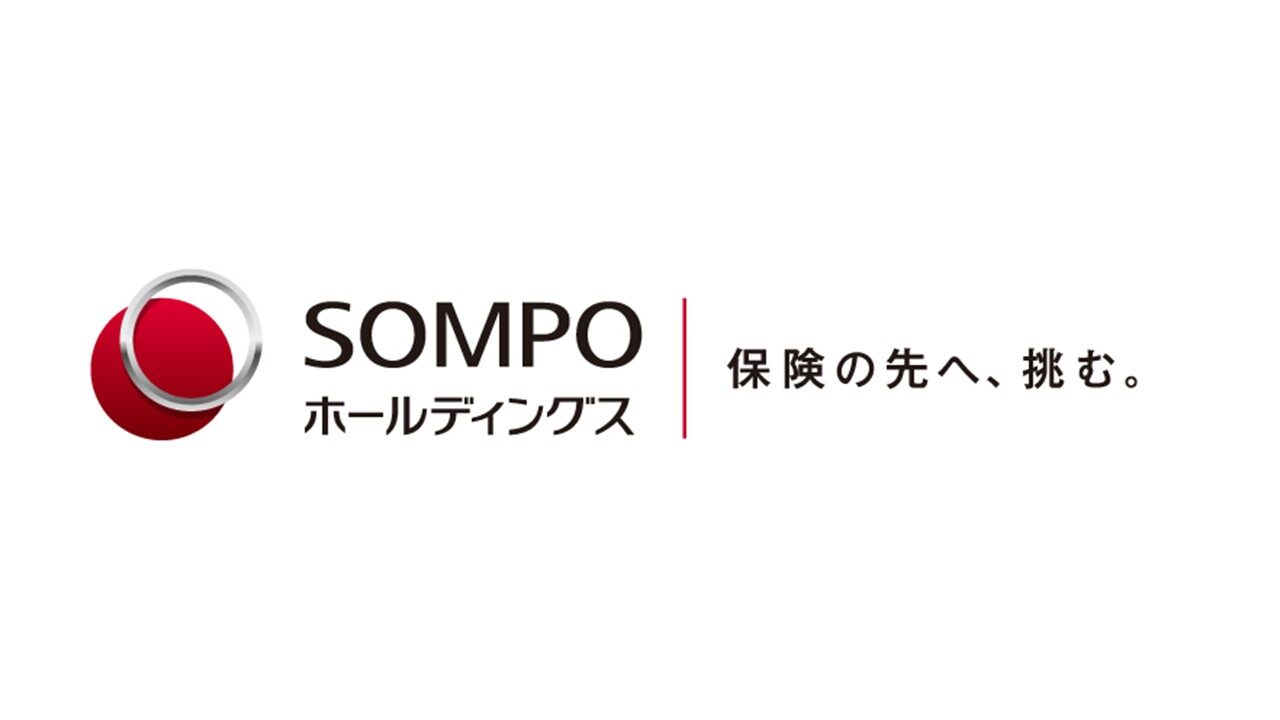 1. Developing a "Dementia Support Program" across the SOMPO group
In order to solve the social problem of dementia in Japan, which has one of the highest indexes of aging populations in the world, the SOMPO group is developing a "dementia support program" toward the realization of a "society that prepares for dementia and each of us have the opportunity to live the way we always have, even when getting diagnosed with dementia." While receiving advice from the National Center for Geriatrics and Gerontology and Japan's largest group involved with dementia, the Public Interest Incorporation Association, Alzheimer's Association Japan, we continue transmitting best practices to the world through the efforts of SOMPO, developing Japan's largest insurance and long-term care business.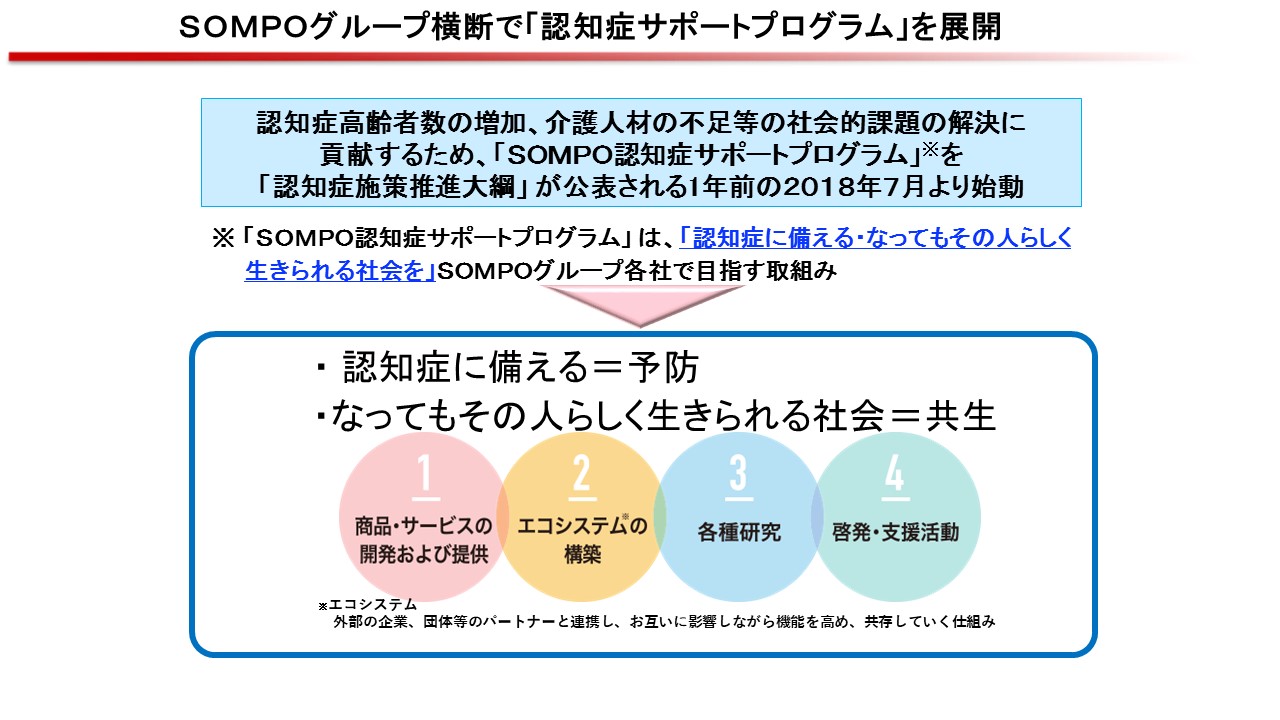 2. Specific Initiatives
1) Dementia education activities and implementation of an inclusive society.
The SOMPO group aims to create an inclusive society between people with dementia and the local community through continuous dementia education activities intended to promote a correct understanding of dementia. As an example of specific dementia awareness-raising activities, we have held a dementia edification seminar every year since 2017 during Alzheimer's month. This year, on the night of the seminar, with the theme of "seeking inclusion and prevention of dementia in these times of coronavirus," we will take part in the "Orange Illumination" broadcasting nationwide project by the "Alzheimer's Association Japan." The Sompo Japan Insurance Inc. headquarters building was lit up in orange, symbolizing dementia edification and support activities, and we were able to connect with everyone via relay broadcasting. In addition, to get rid of misunderstandings and prejudices about dementia, this year, we will provide information on the dementia support "SOMPO Egao Club," operated by Prime Assistance Inc. We are expanding and opening some functions to the general public to support the realization of a society that coexists with dementia.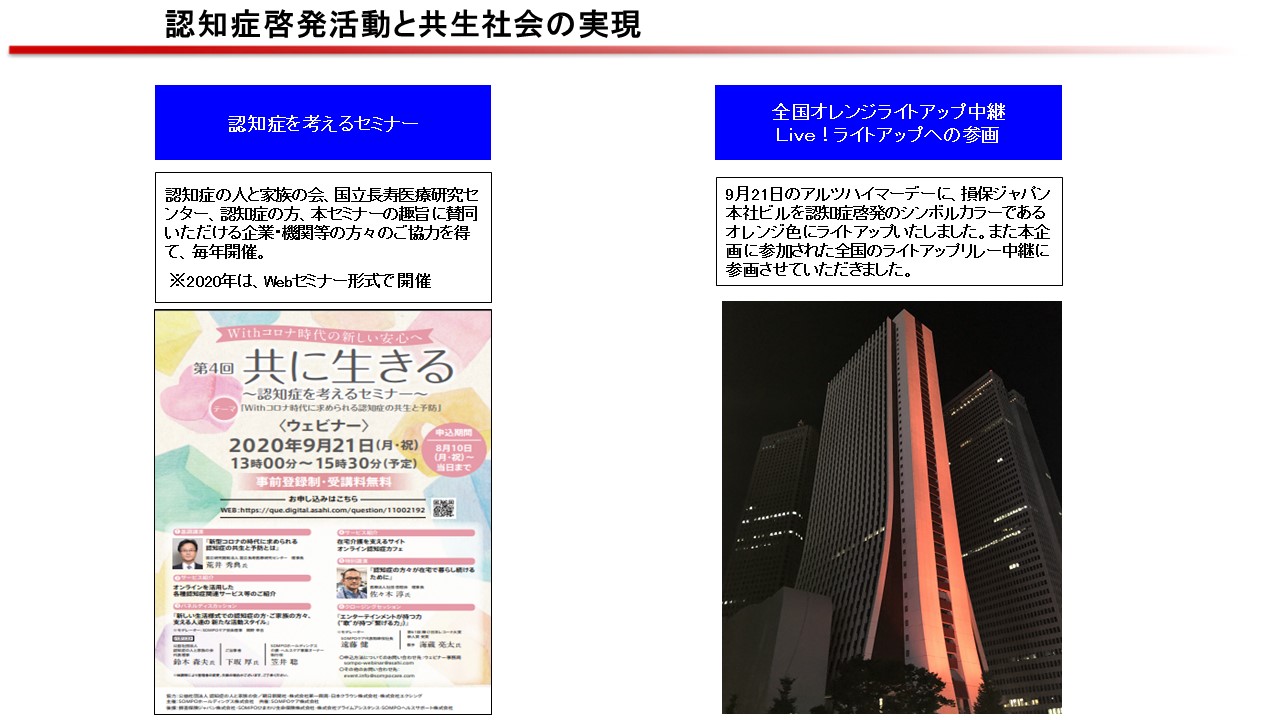 2) Development of insurance to promote early detection and preparation
SOMPO group is developing insurance to promote early detection and preparation against dementia. Sompo Himawari Life Insurance Inc. started to sell the industry's first health support product in October 2018, "Egao Wo Mamoru Dementia Insurance," that covers MCI (Mild Cognitive Impairment). In addition to the insurance feature that guarantees MCI and dementia with a lump sum payment, they also provide a service that contributes to cognitive function inspection and prevention of cognition loss, as well as a web service "SOMPO Egao Club," which provides basic knowledge of dementia and information on long-term care. In the case of someone needing long-term care, we provide SOMPO Care Inc.'s long-term care services to delay the onset and progression of dementia and provide consistent support up to long-term care.
Moreover, in order to solve the social problem, which has been increasing in recent years of long-term care turnover caused by parents being taken care of by their children, SOMPO Japan is the first in the industry to support "balancing work and long-term care" for those who work while taking care of their parents with the development and offer of the "Oyako No Chikara" Insurance. We have integrated long-term care services and insurance, allowing smooth use of long-term care services and covering the costs.
3) Improving the quality of dementia care
Engaged In the long-term care business, SOMPO Care Inc. offers the highest quality long-term care services in a full line for local customers, from home care to institutional care. Our vision is to maintain the dignity of the elderly, provide safe and secure long-term care services, and mold long-term care services toward realizing a long-lived Japan that we can be proud of in the world. Even if someone has received a diagnosis of dementia, we are developing a unique method of SOMPO Care, called the HECT approach, based on the perspective of phenomenological nursing to secure the person's life and dignity and keep them building relationships. Each HECT approach explores factors from the four categories: Health, Environment, Communication, and Tasks. We identify and clarify factors as behavioral problems in people with dementia caused by the uneasiness of their daily lives and psychological problems such as strong anxiety (*BPSD).
As a result, we aim to eliminate the anxiety and troubles as much as possible.
* Behavioural and Psychological Symptoms of Dementia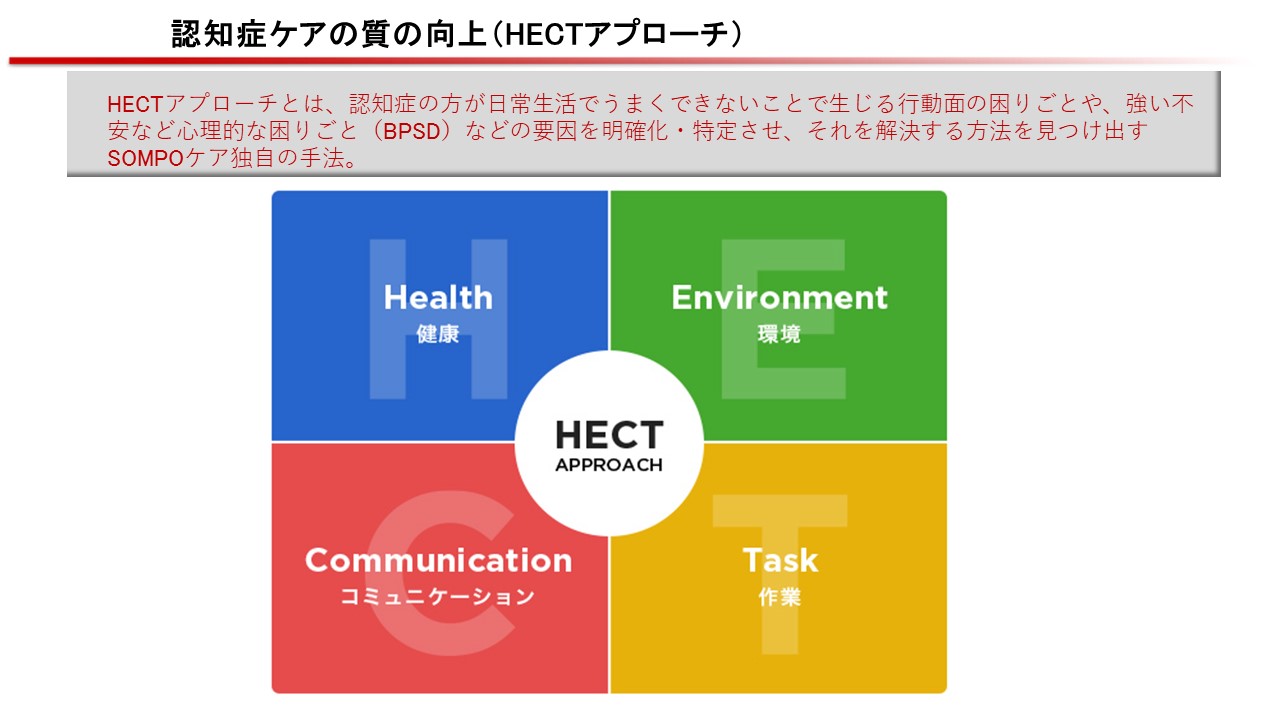 4) Challenges for Research and social implementation of technologies related to cognition decline prevention and care.
Beginning in 2019, we have been participating in the J-MINT project, a national project led by the National Center for Geriatrics and Gerontology, with the purpose of verifying the effectiveness of the dementia prevention program in suppressing cognitive decline.
In 2020, we released the "SOMPO Smile Aging Program," which effectively controls cognitive decline, making use of the knowledge and experience we have cultivated in the SOMPO group's long-term care business.
This program is based on the "FINGER study," the first to demonstrate that it is possible to prevent cognitive decline using a multi-domain lifestyle intervention among older at-risk individuals. It has become "the world's first officially approved implementation of a FINGER Study-based Dementia prevention program in a nationwide scale" approved by Professor Kivipelto and FINGERS Brain Health Institute (FBHI) of the Karolinska Institute and certified by the National Center of Geriatrics and Gerontology.
As well, at the "Future Care Lab in Japan" established in 2019, in order to create a new, better way of long-term care based on "the coexistence of humans and technology," we are engaged in integrating joint research and development of the engineering of start-up companies and research institutes along with the operational know-how of long-term care sites of SOMPO group. We aim to improve the Quality of Life (QOL) and social implementation by utilizing advanced technology.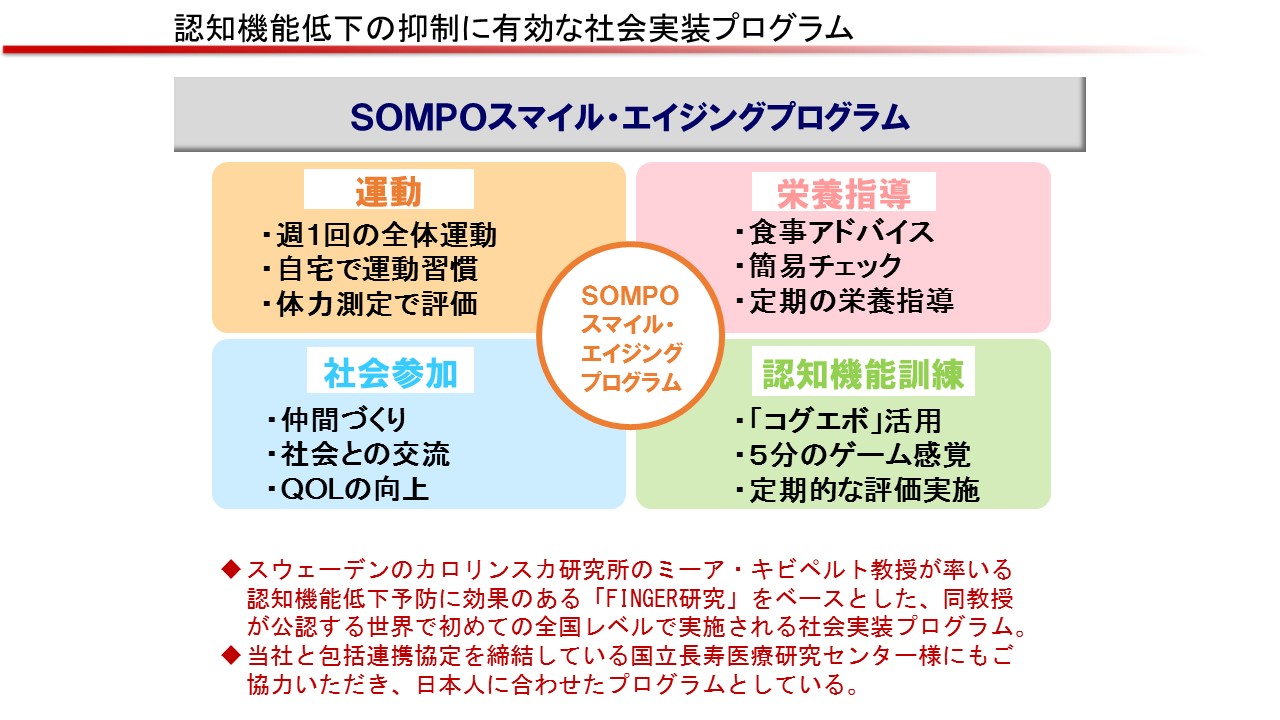 2. Company Profile
SOMPO Holdings is aiming to contribute to society by providing the highest quality services conferring "safety, security, and health" through a wide range of business activities. In addition to the domestic insurance business, domestic life insurance business, and overseas life insurance business, we have made a full-scale entry into the long-term care business since 2015 to solve the rapid-aged society's social issues in the future. Each SOMPO group company is making many initiatives to prepare for dementia and materialize a society where people can live and be themselves.
3. Public Contact Information (Website)
4. References
SOMPO Smile Program for Brain & Physical Health (English release)
Sompo Holdings