Active AAJ in both towns and villages < Ishikawa, Nara >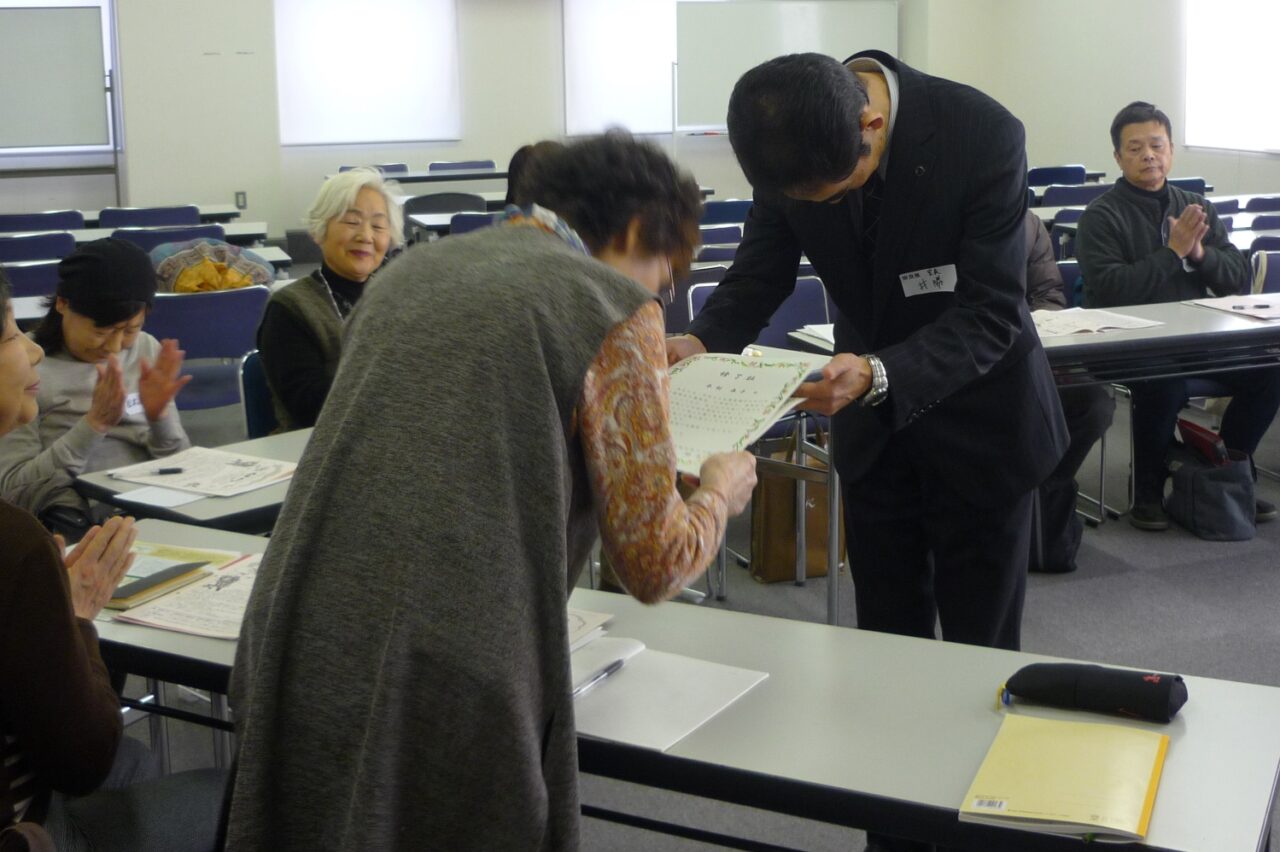 Introducing activities from the nationwide Alzheimer's Association Japan (AAJ) branch reports!!
Editor/Taeko Uchida
Ishikawa Prefectural Branch
Making a New Year's resolution with laughter
– Laughter is a source of caring power –
The branch held the New Year's Meeting in the Activity Room for Life Worth Living on the first floor of Matsugae Welfare Center in Kanazawa City from 12:00 to 16:00 on January 20. We invited Mr. Yasuhiko Hamazaki, who is the official leader of NPO Laughter Yoga Japan, to be a lecturer. We enjoyed laughter yoga and blew away the cold with movement and voices. Mr. Hamazaki stayed with us to the end of the meeting and told us about his care experiences and ways to warm up the hearts of the 14 participants.
The participants told the others about their daily lives, and we heard about a smart way to release stress, transformation with diet, etc. In the surprise lottery, one of the participants won a hot-water bottle with a rabbit-face cover.
At the end of the meeting, all the participants sang Furusato (My Old Country Home, a nursery song) in loud voices. One of them said "I could recall the laughter in my childhood that I had forgotten. It was refreshing both physically and mentally. The calls of "Hooray! Hooray! Yay!" and "Very good! Very good! Yay!" still stick in my ears. I'm looking forward to such encouraging events in the future."
Nara Prefectural Branch
The Dementia Care Course for Family Members took place
I heard many informative things
As in the previous year, the branch worked on the Dementia Care Course for Family Members, in its sixth term in 2018, as a commissioned project in cooperation with the Prefectural Regional Comprehensive Care Promotion Office. On February 12, 14 participants who had attended all six lectures received a certificate of completion.
As for the second lecture, the lecturer for the last day was Dr. Kenji Hara, who is the deputy director of the neurology department of Kouseikai Takai Hospital. He said "When family members come to accept the situation, people with dementia come alive. It is important to be consistent with each person to create an environment where he or she can feel at ease."
Also in this term, the participants had a discussion after the lecture in the first half of each class. It was an intimate and encouraging care course. We hope they can continue caring with reassurance that the support has not ended here and they have someone to consult with, such as AAJ telephone counseling, meetings, and Nara City face-to-face counseling whenever they need.
In the survey conducted in the final class, there were comments such as "I'm grateful that I could get so much information", "I was able to refresh my mind every time I participated in the class", "I have come to treat my family member with dementia more gently and calmly", and "It was useful to be given so much factual material to increase my knowledge."